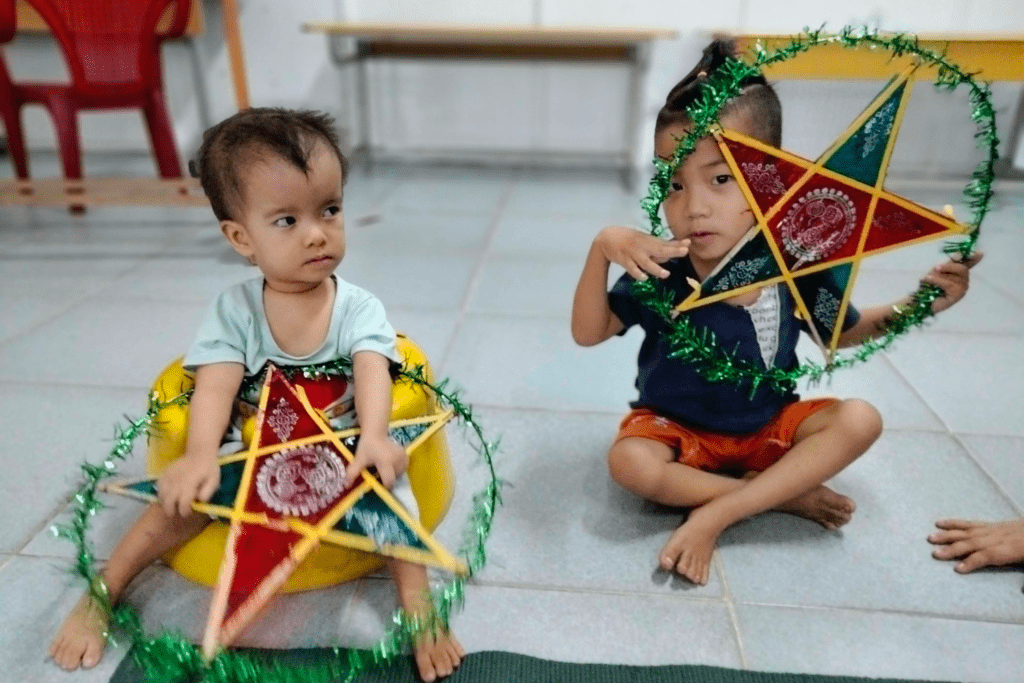 Meet the King and Queen of Kianh. This is what the teachers call these two tiny children at our school. The little girl on the left is not yet 3 years old and has issues with Chromosome 10. The little boy on the right is 5 and has Cerebral Palsy. Neither of them can walk yet and so they are often seated side by side on their little chairs, leading the staff to fondly joke that they are on their thrones. If you go up to talk to them, they will graciously receive you with smiles and the little queen might shake your hand, blow you kisses or enter a game of peek-a-boo with you, if she is in the mood. It wasn't always like this, and when they first started at our school, they would cry if you came too close. And they could not sit in their thrones yet, because they did not have enough body strength. A long day at school is no longer just a day away from mum and dad, but a day of friendship and fun, where learning and development are so diverting that they do not even know how hard they are working.
In between the 13 typhoons that we experienced this year in Vietnam, when the weather has been dry and bright again, I have sat on a swing in the garden at our school and watched our students at playtime. Because I am often in my office, doing boring things on my computer, like sending off yet another e mail trying to find funds, I don't get to see our children as much as I would like, despite being in the same building as them. When the rain stops pouring and the winds stop howling, out they come, running, ambling or slowly stepping out of their classrooms into our communal garden. Wow, I think, Huy is walking with a walking frame now; I didn't know he could do that! Or, Look at Trinh playing chase with her friends; she won't usually even look at anybody, never mind try to catch them! There is La, who was so low on confidence when she came to us that she no longer spoke, now sitting on top of the climbing frame and singing loudly. And look at Tai, watering the flowers, instead of this time pulling them all apart. The children themselves feel like flowers growing, in the most nurturing place that I know. Not even just growing, but mastering unexpected skills daily, in ways that no one ever thought they would. Our school is a cacoon of goodness in a difficult world. I believe that it is the best special school in Vietnam and, biased though I am, I'm not the only person to think that. And that's why, placed as I am to believe in miracles, because I see them every day, it is not so far fetched of me to believe that a Christmas miracle will happen this year, and someone will help us keep our beautiful school open.
Waiting for a Christmas miracle. So that we can keep making amazing things happen.
My very best,
Jackie Wrafter M.B.E